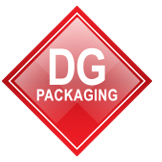 DG Packaging (Thailand) Co., Ltd. (DGP), a joint venture between
HazChem Logistics Management Co., Ltd. and DG Packaging Pte. Ltd., is specialized
in providing the compliance solutions of Dangerous Goods Packaging and
Declaration in accordance with the IATA Dangerous Goods Regulations (IATA DGR).
DGP's certified Dangerous Goods ("DG") experts simplify the overall complicated
DG handling processes including monitoring limitations, packing,
marking and labeling, documentation and handling and offer customers
with the complete and easy 'One-Stop solution' services.
• Dangerous Goods Packages, Marking and Labeling
• Dangerous Goods Repackaging Services
• Preparation of Dangerous Goods Declaration
• Onsite Repacking and Inspection Services
• Dangerous Goods Local Pick-up and Delivery
• Biomedical And Temperature Sensitive Packaging Services
• Provision of Dry Ice & Gel Packs for Temperature Control
• International Transport of Dangerous Goods by Air
• In-house Dangerous Goods Safety Advisors
Contact :
628 Triple i Building, 4th Floor, Soi Klab Chom, Nonsee Road, Chongnonsee, Yannawa, Bangkok 10120
Tel: +66 2681 8122 Fax: +66 2681 8121